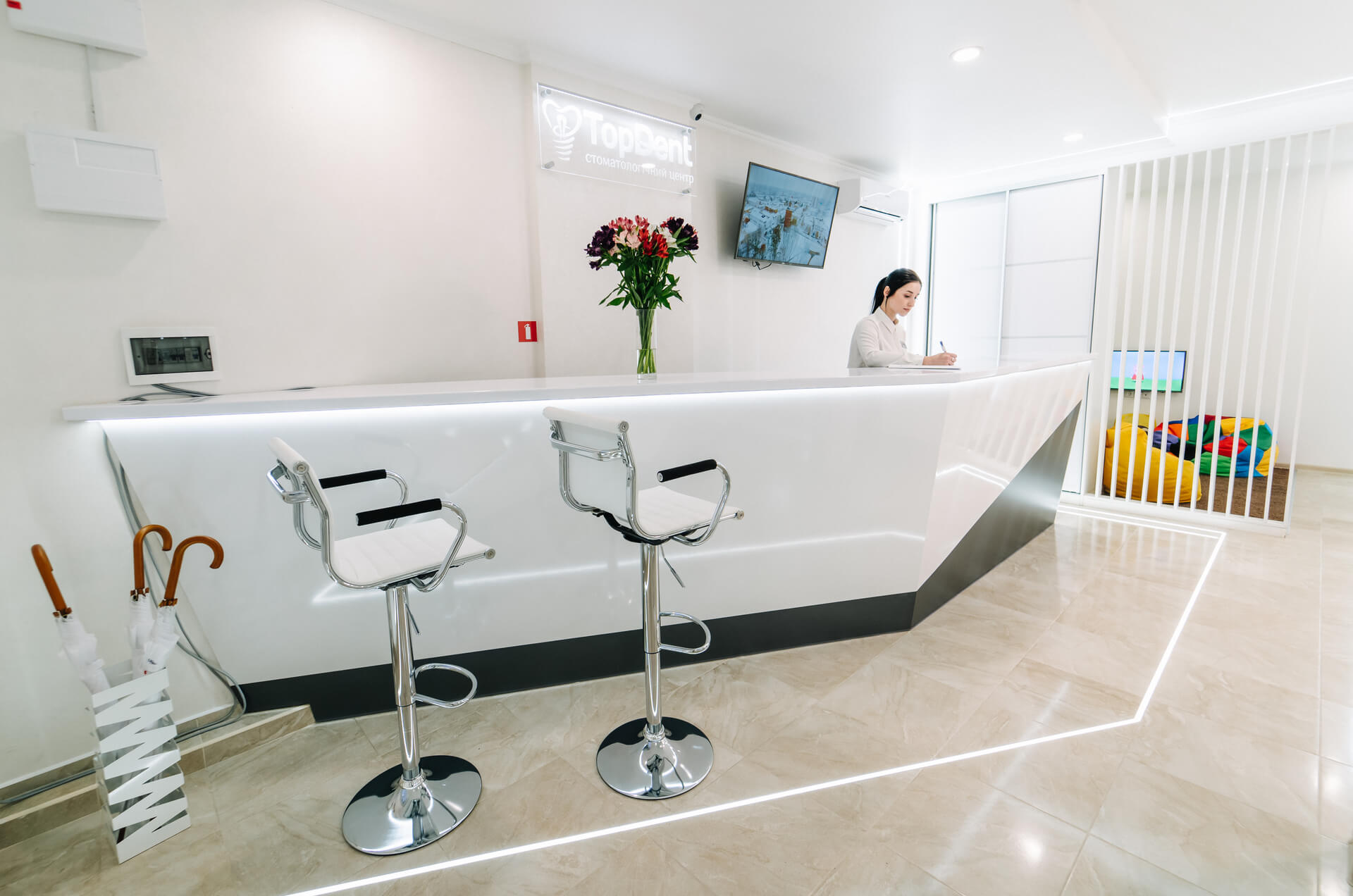 Dental center «TopDent» -
for people and about people!
Professional team, premium equipment, modern methods of treatment
and atmosphere of comfort - our main goals.
Book an appointment
About us
"Top Dent" is a high class dental center, ready to provide our patients with multiple choices of combined treatments, all performed in one place within our clinic  in the framework of a concept developed by the experienced doctors and agreed with you. European equipment, modern treatment protocols, innovative technologies, high quality materials, professional and friendly staff, and , mainly, a strong team of doctors of different specialties – are the undoubted advantages of our clinic.
Dental Center "Top Dent" was created to please the most demanding patients, the ones who  appreciate the quality of treatment,  combined with a high level of service and comfort. At the same time, we adhere to a strict individual approach for everyone who cames to us for help.
A children's zone has been created for the youngest patients where they can immerse into the world of toys and cartoons having forgotten about all the fears associated with visiting a dentist.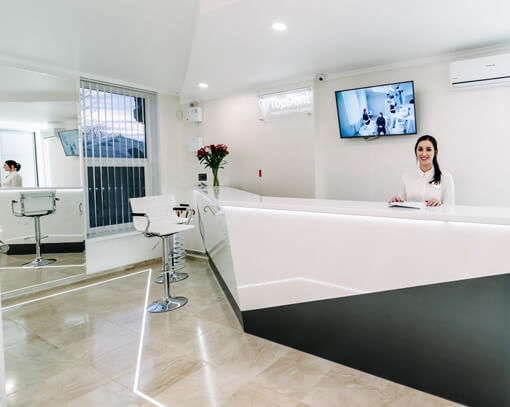 Why choose us?


Sterilization tools with autoclaves MELAG, SIRONA

European equipment
of new generation

Warranty almost for all types of services

Treatment of patients with complex dental problems

Reception by appointment without waiting in line

Implantation
MIS and STRAUMANN

Balance
between quality and price
If you need professional dental care - book an appointment right now!
Services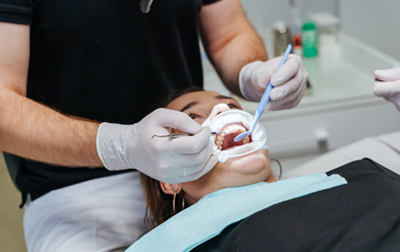 Prosthetics
The possibilities of modern prosthetics methods are so advanced,  that artificial teeth are getting indistinguishable from natural ones. Moreover, they can be much more aesthetic. Therefore,  the loss of one or more teeth is not a hopeless problem any longer. The prosthetics procedure allows you to restore lost teeth, and with them, the lost chewing function, health and beauty.
Lost teeth can be restored using fixed or removable prostheses, based on the natural teeth or on implants
In general, the concept of fixed prosthetics is preferable, as it provides greater comfort, better functionality, more attractive appearance.
Crowns are made using different technologies and different types of ceramics, which has different indications. Depending on the specific case, we will select especially for you the material that will ensure a balance between aesthetics and durability.
At the TOP DENT Dental Center, both doctors and dental technicians use magnification in their work (dental microscopes and binoculars), which provides excellent accuracy. In dentistry, accuracy is synonymous with longevity. Thus, the recommended service life of correctly set all-ceramic crowns can reach up to 20 years!
Veneers, whitening
Whitening is a non-invasive procedure that allows you to lighten your teeth. The result of whitening is not eternal, its duration largely depends on the structure of the tooth and the characteristics of the diet. On average, you can get lightening colors in 5-7 shades. This procedure can be recommended for patients of any age who have natural teeth without fillings and crowns in aesthetically significant areas. The whitening result can last from 6 months to several years. At "TOP DENT", the whitening is done using  the "Beyond" system.
After the professional whitening procedure, the patient is provided with an oral care kit, including a gel to enhance the enamel.
Veneers are a minimally invasive alternative to whitening, which ensures a long-lasting and stable result. They require a barely noticeable tooth preparation (0.1-0.5 mm). In cases where the patient has small teeth or teeth with gaps, there is no need for any preparation, and we can use "no prep veneers", i.e. without preliminary preparation of the tooth surface.
Ceramic veneers can be of any desired shade and any shape. This alternative is also recommended in cases where the patient has failed composite restorations on the front teeth. In cases of natural teeth with darker shade or imperfections in form, we can also recommend ceramic veneers to obtain the desired shape or color.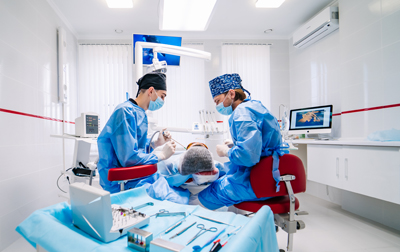 Implantation
Implantology is a branch of dentistry that is responsible for restoring lost teeth based on artificial implants. A dental implant is never "just an implant" for us. This is an element that allows you to restore a lost tooth, and with it, attractiveness, comfort and self-confidence. We consider implants as an important component of future restored teeth.
Usually, implants are made of titanium – a metal biocompatible with human tissues. They function as artificial roots on which single crowns or bridge-like structures are installed, allowing to restore the integrity of the dentition with a high degree of perfection.
At "TOP DENT" dental center, implants of the brands like MIS (Israel) and Straumann (Switzerland) are most commonly used. These are superior quality implant systems that have undergone many clinical trials, time-tested and proven to be effective.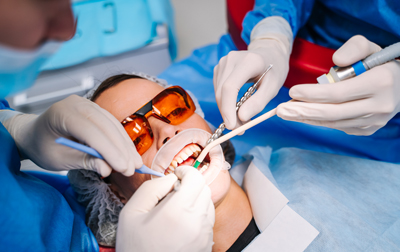 Ambulatory surgery
Oral surgery is one of the most comprehensive areas of dental practice. Often it is a component of periodontal, orthodontic and orthopedic procedures and includes the prevention and treatment of intraoral changes and pathologies.
Oral surgery is responsible for all surgical procedures related to:
extraction of teeth that cannot be stored in the oral cavity;
correction of the shape and volume of soft tissues of the oral cavity;
bone-plastic augmentations;
removal of cysts and benign neoplasms in the oral cavity;
Tooth-preserving surgeries, such as apical resection, hemisection, surgical lengthening of the crown of the tooth.
Most of these procedures are performed in the microsurgical techniques, which reduces postoperative pain, swelling, promotes rapid healing, and digital procedure planning of the interventions add predictability and precision.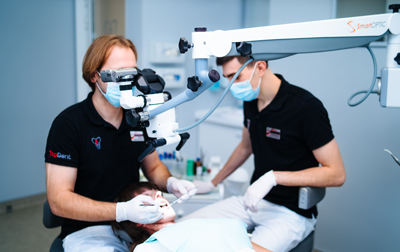 Endodontics
Endodontics is a specialty in dentistry aimed at treating pathologies of the pulp (usually called the nerve).
Dental pulp is located inside the tooth and is surrounded by hard tissue – dentin. She is responsible for the nutrition and sensitivity of teeth through the blood vessels and its nerves.
Damage to the pulp can be caused by injuries, fractures, the presence of deep cavities, which leads to bacterial contamination.
Symptoms that indicate an endodontic problem are spontaneous aching pain, bouts of pain, the intensity of which increases in the evening and at night, prolonged sensitivity to temperature irritants and discomfort when touching and chewing. In this case, the most common signs are an abscess or fistula (a small blister of pus on the gum).
In cases of necrosis or irreversible inflammation of the pulp, endodontic treatment (devitalization) is the only way to preserve the tooth and prevent further complications.
In addition to eliminating pulp pathology, endodontic treatment allows restoration of dental chewing function along with subsequent reconstruction. Among the important possibilities of endodontics should be attributed the repeated treatment of the root canals in cases when the previous attempt failed for some reason. With the new procedure, all contents within the root canal system are removed. After this, a medication and … disinfection are performed, along with the three-dimensional obturation of the root canal system. After treatment, tooth restoration is performed.
At Top Dent Dental Center, endodontic interventions are performed using a microscope, which improves the quality and reliability of the treatment.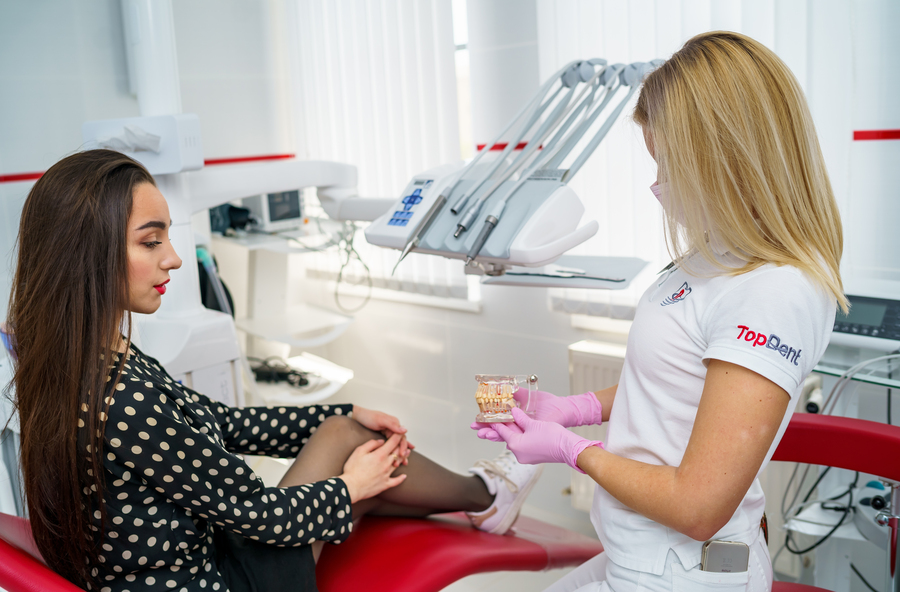 Orthodontics
Orthodontics is a branch of dentistry that deals with the prevention and treatment of tooth anomalies and malocclusion.
Orthodontic treatment involves the elimination of congenital, hereditary and acquired defects associated with the position of the teeth, bite, and TMJ dysfunction, and, just as importantly, this is one of the most effective tools in aesthetic dentistry
Before starting any treatment, a doctor must find out the cause of your pathology and work out in detail all its components. For this, a diagnosis is carried out before treatment, which includes:
Analysis of x-ray images of the dentition (orthopantomography or panoramic image);
Side picture of the head (tele-radiography);
Measurement of dentition (for this, the doctor will take your dental impressions or perform an intraoral digital scan of the dentition);
Intraoral and portrait photographs.
After a thorough diagnosis, the patient is introduced to an individual treatment plan.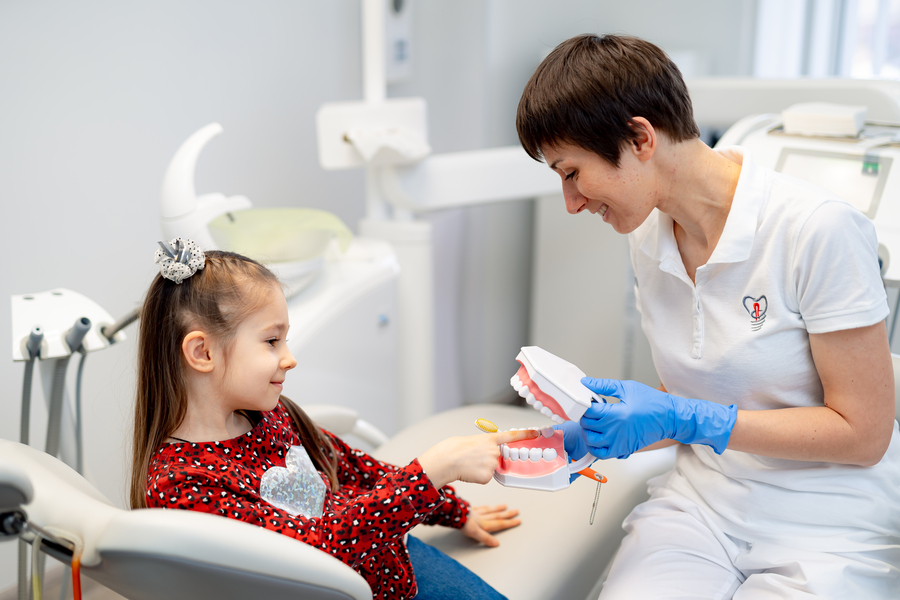 Pediatric dentistry

Pediatric dentistry in the center "TOP DENT" is at a high level. We are able to offer a complete diagnosis of the development of the dental system. Our specialists can perform remineralizing therapy, prevention of caries by sealing fissures, treatment of pulpitis, periodontitis, removal of deciduous teeth, professional oral hygiene procedure, as well as treatment with nitrous oxide. Our pediatric dentist at "TOP DENT", is well versed in the psychology of the child, knows how to approach each little patient, knows how to calm down, encourage him, how to be friendly, so that the young patients not only stop being scared but become curious. After all, the doctor knows how to kill the pain, knows and is always ready to share many secrets for proper care of teeth and tissues of the oral cavity.
The main feature of pediatric dentistry is that it allows you to prevent future  teeth and oral cavity diseases  and therefore is the foundation for other areas of dentistry.
In order to monitor the growth and development of the dentition, you need to regularly visit a pediatric dentist. It is he who, having carried out the necessary therapy and prophylaxis, can correct tooth growth disorders at early stages, notice and prescribe the treatment for caries, and instill a culture of oral hygiene.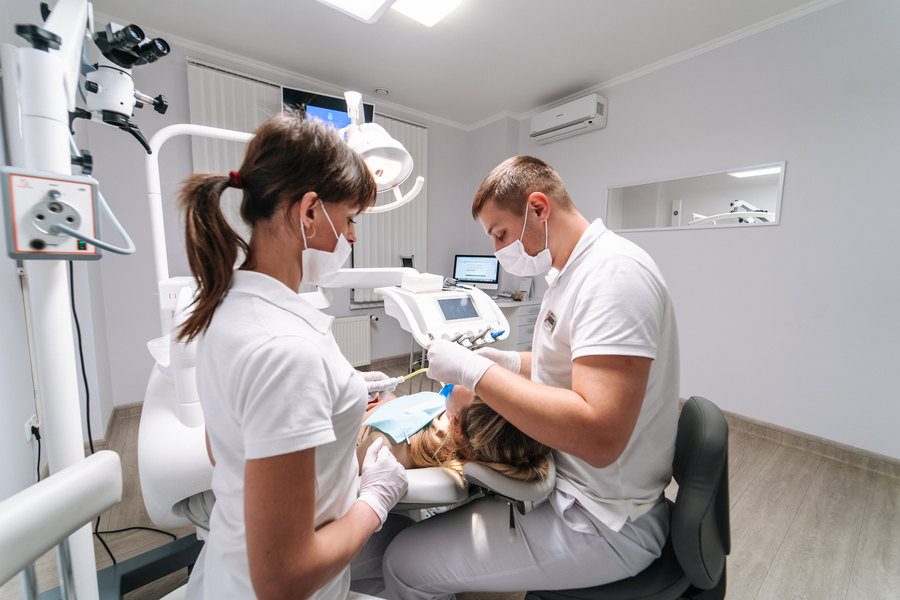 Periodontology
Periodontology is a specialty of dentistry that deals with the prevention, diagnosis and treatment of diseases that affect periodontal disease – a complex of tissues that includes the gums, bone tissue and periodontal ligament. They are responsible for the stability of the teeth.
Periodontal disease occurs due to the accumulation of bacteria in the oral cavity. Soft and hard dental deposits in the gingival sulcus or on the surface of the roots of the teeth cause chronic inflammation, which destroys the tissues supporting the teeth.
Periodontal disease is divided into two main groups: gingivitis and periodontitis.
Any person with poor oral hygiene can develop gingivitis – gum inflammation and bleeding. Factors such as pregnancy, puberty, crowding of teeth or the use of low-quality prostheses can contribute to this pathology.
If gum inflammation and bleeding  is not diagnosed and treated at an early stage, then a more serious and complex problem arises – periodontitis.
Amongst the consequences can the irreversible loss of bone tissue , teeth mobility. Smoking and diabetes significantly increase the risk of developing this disease.
Periodontitis affects most of the world's population and is almost the main cause of tooth loss in adult patients.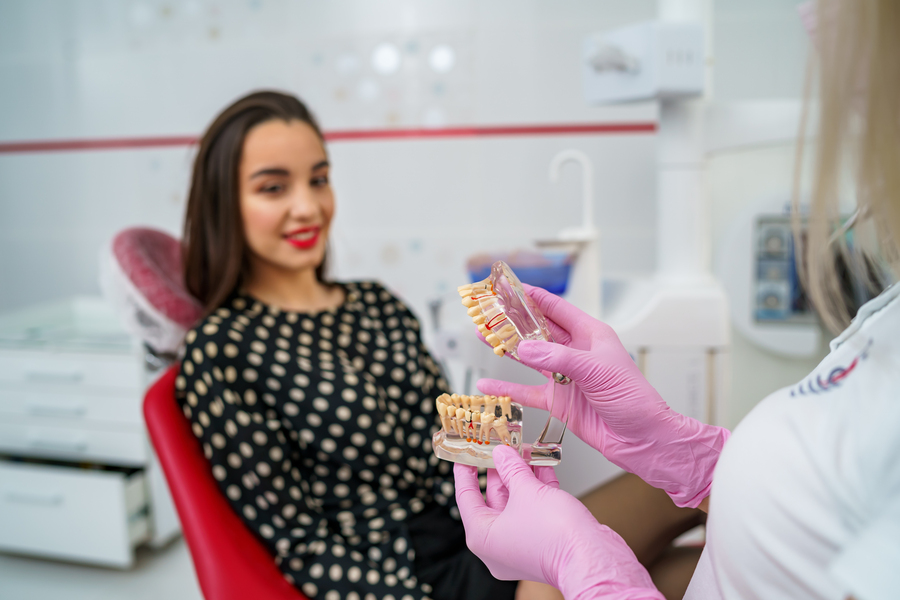 Professional hygiene
and prevention
Professional hygiene
and prevention
Professional hygiene is the main preventive factor in dentistry, which prevents periodontal disease and caries. During professional hygienic procedures, all tooth surfaces are cleaned from hard to soft deposits. The purpose of these procedures is to mechanically remove bacteria from the  teeth surface.
At "TOP DENT" Dental Center professional hygienic procedures are performed with the method of ultrasonic scaling, air-abrasive method (Air-Flow, EMS) with subsequent polishing of tooth surfaces with microabrasive paste.
To maintain a healthy and attractive smile, professional hygienic procedures are recommended twice a year.
At the "TOP DENT" Dental Center you will receive professional advice on the oral cavity care. The doctor will select the necessary hygiene products and develop an individual prevention scheme.
To maintain a healthy and attractive smile, professional hygienic procedures are recommended twice a year.
At the "TOP DENT" Dental Center you will receive professional advice on the oral cavity care. The doctor will select the necessary hygiene products and develop an individual prevention scheme.


«TopDent» Team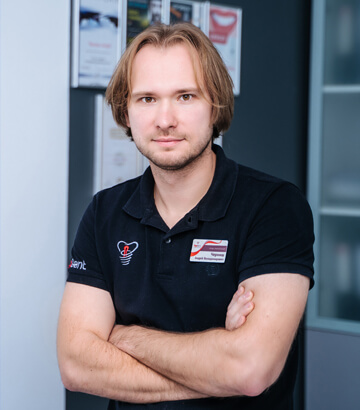 Andrey Chernysh
Ph.D. in Medicine, Dentist, surgeon-implantologist
Read more
Andrey Chernysh
Ph.D. in Medicine, Dentist, surgeon-implantologist
Practical experience – 12 years
130+ certificates and diplomas
Was trained in Italy, Israel, Switzerland, Finland, Lithuania
The main areas of activity are: implantation, surgery on soft tissues and bones, surgical treatment of inflammatory processes, plastic bridle, recessions closure, tooth extraction, exostoses. Surgeries are performed with microsurgical equipment, comfortably, quickly and painlessly. He also specializes in removable and non-removable prosthetics, prosthetics on implants, installation of veneers, crowns.
Andrey Vladimirovich is always ready to answer the patient's questions, patiently, to explain in details the future treatment and solutions for problem elimination. The doctor creates an atmosphere of friendliness, peace and confidence around him..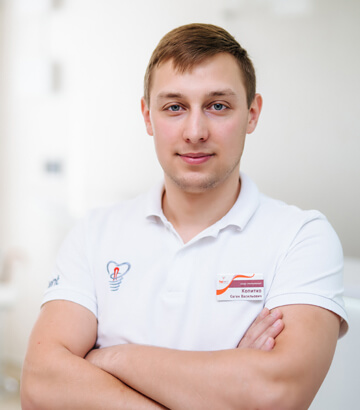 Evgeny Kopytko
Dentist, therapist
Read more
Evgeny Kopytko
Dentist, therapist
Practical experience – 6 years
60+ certificates and diplomas
If you need to treat your teeth, do professional oral hygiene procedures, get rid of tooth decay, pulpitis, periodontitis, if you have problems with gums, then you should definitely go for it! In order to provide modern dental care to his patients, Evgeny Vasilievich constantly improves his knowledge in the field of therapeutic dentistry and periodontology. Already more than a thousand patients are grateful to him for his attention and responsiveness, for the ability to understand the patient's problem and solve it in the best way.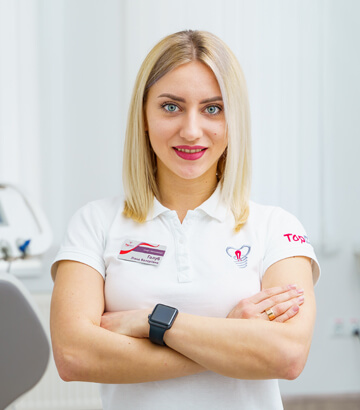 Liana Golub
Orthopedist, orthodontist
Read more
Liana Golub
Orthopedist, orthodontist
Practical experience – 6 years;
40+ certificates and diplomas.
Liana always strives to achieve a high-quality result through close cooperation between the patient and the doctor throughout the entire period of treatment. An individual approach to each patient ensures trust and quality results. Detailed step-by-step planning and, of course, the teamwork of doctors of related fields make orthodontic treatment as effective as possible.
The most valuable thing for a doctor is to see positive changes in his patients: an aesthetic transformation of the smile, face and even emotions of the patient.
The goal of orthodontic treatment is not only to create aesthetically attractive smiles, but also to restore the correct bite, which allows many systems of internal organs to work correctly and even affects posture, and thereby gives self-confidence!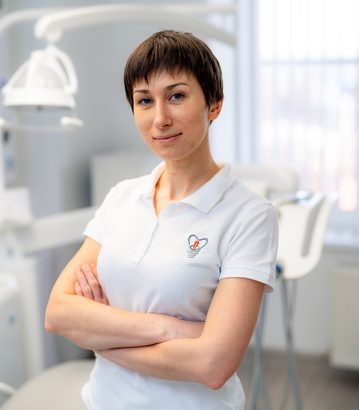 Marina Plaksienko
Pediatric dentist
Read more
Marina Plaksienko
Pediatric dentist
• Experience of practical work – 9 years
• 45+ certificates and diplomas
• Educational work in kindergartens, schools and women's clinics
• Publications in journals for the general public
Marina loves children and knows how to work with them. She always strives not only to achieve good treatment results, but also to become a true friend for the child and his parents, to encourage the little patient to further cooperation.
The goal of a pediatric dentist is to perform his work qualitatively and to form in a small patient a positive dental experience for future visits to the doctor without fear. Learn to trust and not be afraid to treat your teeth.
The most valuable thing after treatment is to see happy, smiling and healthy children.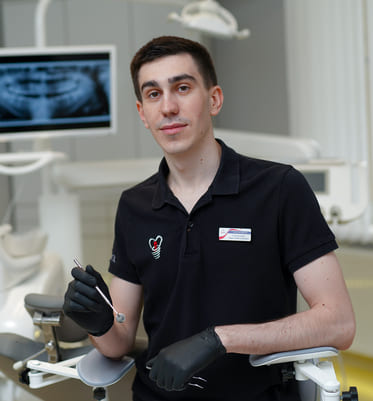 Taras Hnatovskyi
Dentist, therapist
Read more
Taras Hnatovskyi
Dentist, therapist
• 20+ certificates and diplomas
Taras wanted to become a dentist since childhood. Today he helps his patients with full dedication. He uses all modern methods of therapeutic treatment. In his work uses only advanced technologies and modern materials.
The doctor helps to cope with a wide range of problems. It is taken for severe cases and works for a result that should satisfy both the doctor and the patient. Taras will take care not only of the aesthetics of your smile, but also about the teeth performing their functions properly.
You deserve qualified dental treatment!
Value comfort in our clinic
Cost of services
Treatment plan, dіagnostic
500 UAH
Anesthesia
starting at 180 UAH
Caries treatment
starting at 800 UAH
Pulpit, periodontitis treatment
starting at 1800 UAH
Crown from metal-ceramic
3400 UAH
Crown from zirconium dioxide
5500 UAH
Crown whole ceramics
7500 UAH
Arch prosthesis
starting at 10500 UAH
Implantation
starting at 15500 UAH
Sinus-lifting
starting at 14000 UAH
Bone augmentation
starting at 12000 UAH
Whitening system BEYOND
3900 UAH
Office chemical whitening
3200 UAH
Tooth extraction
starting at 600 UAH
Retinings tooth extraction
starting at 4200 UAH
Medicated sleep
starting at 6000 UAH/per 2 hours
Complex professional oral hygiene
1500 UAH
Orthodontic treatment (braces)
starting at 9000 UAH


Appointment to the doctor
Come for a consultation if you have the following concerns:
aching or acute toothache;
caries of milk or permanent teeth;
the need to improve the aesthetics of a smile;
malocclusion;
the absence of one or more teeth;
inflammatory processes in the mouth.
We will help to cope with ANY dental problems, as we approach the issue comprehensively and prevent the emergence of new problems at an early stage of their occurrence.
Upon receipt of your application, our clinic administrator will contact you to confirm your appointment.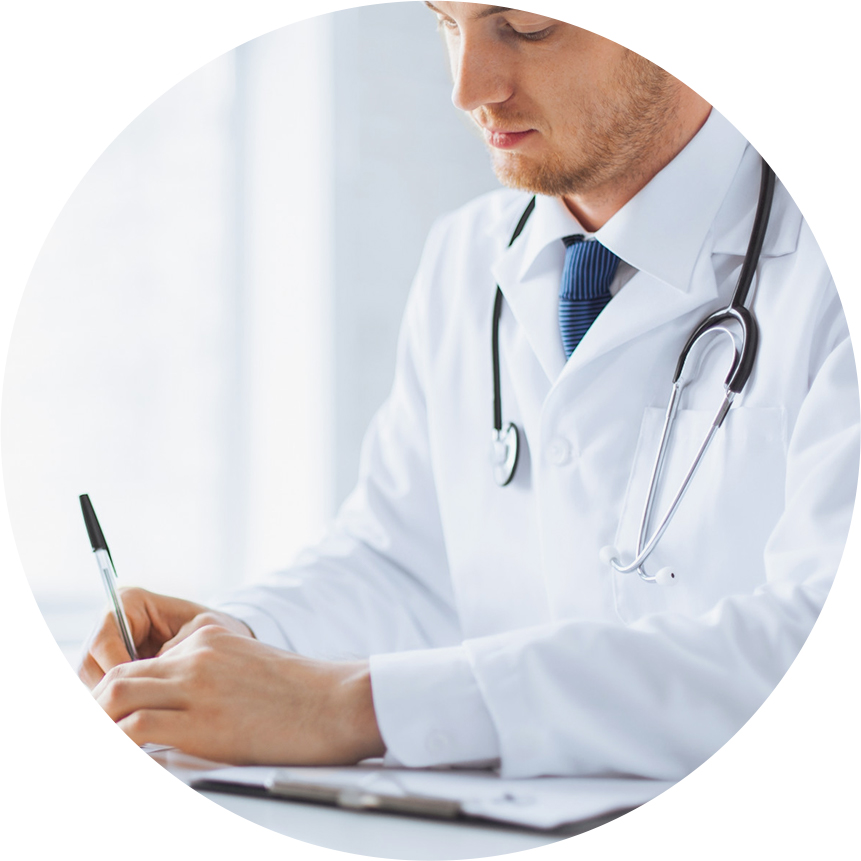 Contacts

Address:

Business hours:
Mon - Fri 10:00 - 20:00, Sat 10:00 - 18:00

Phones:

E-mail: